Are you looking for the best sexshop ever?
Hi. Welcome at the site of the most friendly and positive sexshop in whole Poland (and probably in the whole world). Doesn't matter if you came to start your life in this country or you're just here for brief holidays, place our store at your "must visit" list. If you'll take a look at our reviews at Google, you will probably wonder what's so special about this store. Let me explain. It's not our job, it's our passion and you can tell it from the very first minute we talk. So if you're looking for the best sexshop to visit, you just found it.
What makes Erotic Med so special?
See, serving Customers in sexshop is quite difficult and, in our opinion, demands know how that we've been working on for years. How does our Client feel entering the store? – that's the question that not everyone asks themselves. We do. That's why we put your positive experiens first. At Erotic Med we are aware that for some of our Guests it's first visit in a store with this kind of assortment. We also fully understand that some of them can feel overwhelmed. Usually in other stores, in such delicate situations, these customers are left to fend for themselves, because the staff fears that they will be treated as an intruder. We, on the other hand, consider that space is not what you need if you are one of them. We think that what you need is guidance and non-invasive help. And that's why we're there for you.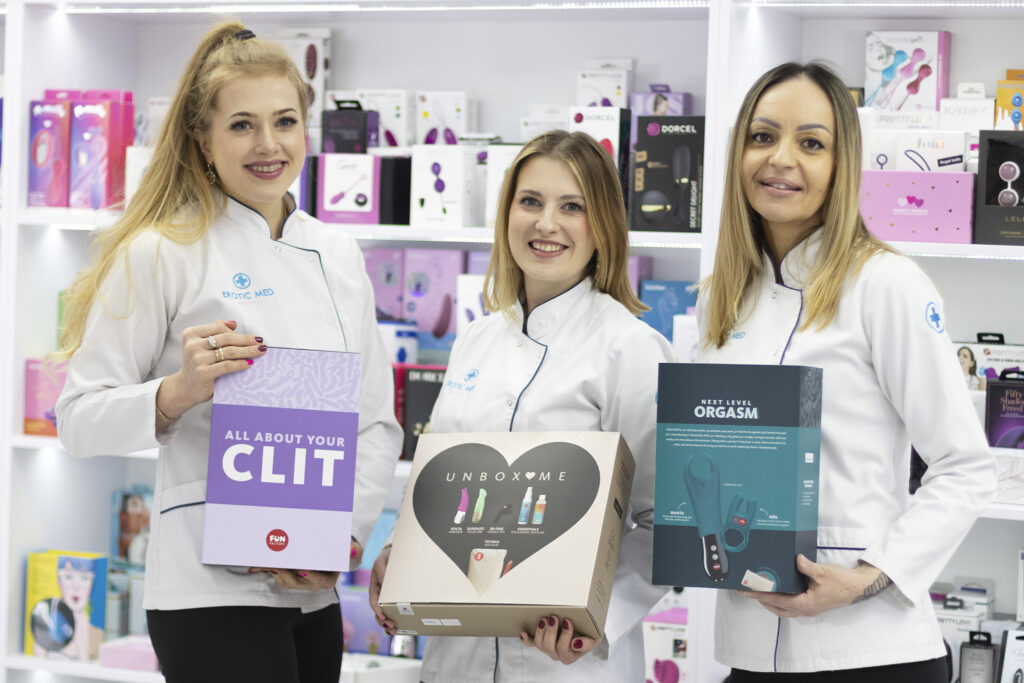 Trust us, we're the best sexshop staff
If you'll ask us, it's not easy to make that connection that allowes to make conversation about intimate part of human life. We only have a moment to make you trust us and feel encouraged to open up in front of us. That's a moment for us to make you feel as comfortable as possible and make you see, that your needs are the most important in the world while you're here. And that's exactly how it is.
Let us surprise you
If you'll visit our store we'll probably offer you a beverage, we'll show you a lot of interesting sex toys and tell you thousands of fun facts. You will know some gadgets that you may have no idea they even exist. Our store is impressively equipped (suggestive?), so you can find anything that you can dream of. We have everything you can possibly need. Wide range of vibrators, masturbators, errection rings, prostate and clit massagers are waiting for you in a row. You will find the best quality cuffs, blindfolds, strap-ons and erotic lingerie at our store as well. We'll be more than happy to answer all your questions. But above all that, our store is the only sexshop recommended by a ginecologist. Why would a sexshop need a ginecologist's recommendation, you may ask? I hasten to explain.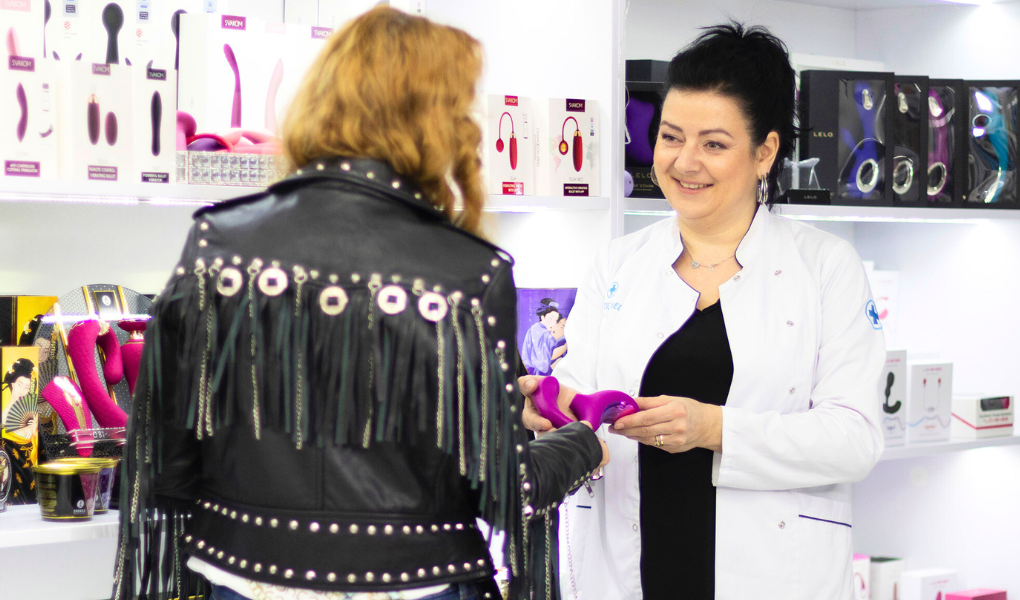 Safety goes first
As important as your satisfaction, your safety is also important to us. We treat sex not only as a certain way to gain ultimate pleasure. We belive that above all sex is the way to fulfill our basic humen needs. This is very important for our phisical and mental health, according to doctors of every specialties. They also commonly agree that using some of sex gadgets can bring medical benefits for users. For example using geisha balls we can effectively train kegel muscles. Men can appreciate benefits of prostate massage. It's not only pleasant, but also prevents prostate enlargement. That is why we, as a kind and helpful Erotic Med staff, need to cooperate with ginecologists, urologists, psychologists, physiotherapists, midviwes and all kinds of medical staff.
Easy access and free parking
I'm sure that by now you're already convinced, that you just need to visit us. But we still have some Aces up our sleeves. Our location is one of them definetly. We're 10-15 minutes by Uber from the Airport and 15-20 minutes from the City Center. Come by cab and have a glass of Prosecco at our store. If you are traveling by car an information that we have our own parking may be useful. Feel invited to see for yourself, how wonderful, non-jugdemental space we've created for you. Our place if free from prejudice and wide open to everyone.